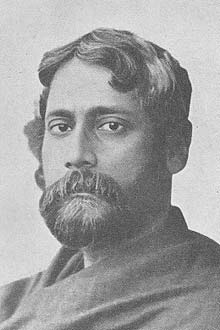 "Chirojibon amar beena-tarey
tomar aaghat laglo baarey baarey,
tai to amar nana surer taaney
Praaney tomar porosh nilem dhorey..."
"All my life, on my veena strings-
You've hit the notes over and over again,
Which is why through my myriad tunes and songs,
I have kept your touch intact in my heart..."
To you, whose words came to me before everyone else's.
To you, whose songs i owe my first dance to.
To you, who has taken care to set each and every of my moods to some song or verse.
To you, who changes forms in every page and yet stays the same forever.
To you...for all your words.